Let me begin by saying that i am very happy to see this do well at auction. a lot of pricey pateks were amongst the highest hammered lots but this work is somethin special. Dufour is a master watchmaker who has made significant pieces and has introduced possibly the finest movement finishing in watches. he is a living watchmaking legend and it makes me happy to see that this perception is shared by the excessively wealthy.



Sotheby's Hong Kong 04 Apr 2012 (11am)... Important Watches

LOT 2311 ESTIMATE 2,200,000-3,200,000 HKD ~ Lot Sold: HK$4.82 million / US$617,949
PHILIPPEᅠ DUFOUR ~ ANᅠ EXTRAORDINARY,ᅠ IMPORTANTᅠ ANDᅠ UNIQUEᅠ PINKᅠ GOLDᅠ TWO-TRAINᅠ MINUTEᅠ REPEATINGᅠ GRANDEᅠ ANDᅠ PETITEᅠ SONNERIEᅠ WRISTWATCHᅠ WITHᅠ HINGEDᅠ CASEᅠ ANDᅠ ENAMELᅠ DIAL. CIRCAᅠ1992ᅠ

NO 3 cal.ᅠ 12ᅠ threeᅠ quarterᅠ plateᅠ nickelᅠ two-trainᅠ leverᅠ movementᅠ woundᅠ byᅠ turningᅠ theᅠ crownᅠ toᅠ eitherᅠ side,ᅠ 35ᅠ jewels,ᅠ minuteᅠ repeatingᅠ andᅠ grandeᅠ andᅠ petiteᅠ sonnerieᅠ strikingᅠ onᅠ twoᅠ polishedᅠ steelᅠ hammersᅠ •ᅠ whiteᅠ enamelᅠ dialᅠ withᅠ Romanᅠ numerals,ᅠ bluedᅠ steelᅠ moon-styleᅠ hands,ᅠ subsidiaryᅠ dialᅠ forᅠ constantᅠ secondsᅠ •ᅠ 18kᅠ pinkᅠ goldᅠ circularᅠ case,ᅠ downturnedᅠ lugs,ᅠ twoᅠ slidesᅠ forᅠ "hours/quarters"ᅠ andᅠ "silence/strike"ᅠ inᅠ theᅠ band,ᅠ minuteᅠ repeatingᅠ functionᅠ activatedᅠ byᅠ depressingᅠ aᅠ buttonᅠ inᅠ theᅠ crown,ᅠ glazedᅠ dustᅠ cover,ᅠ hingedᅠ backᅠ •ᅠ case,ᅠ dialᅠ andᅠ movementᅠ signedᅠ •ᅠ withᅠ anᅠ 18kᅠ pinkᅠ goldᅠ buckle. diameterᅠ 41ᅠ mm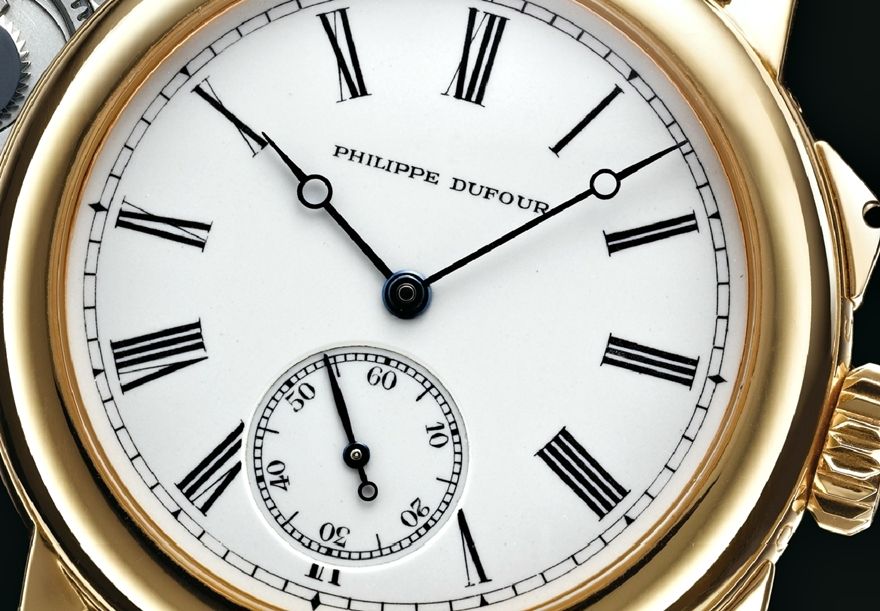 Sotheby's text: "Philippe Dufour is one of the most respected master watchmakers working in the industry today. Born in the Vallée de Joux, he attended the Sentier technical school at the age of 15 and pursued watchmaking in 1967. Dufour was employed by world renowned watchmaking manufactures such as Jaeger-LeCoultre, Audemars Piguet and Gerald Genta. In 1989 however, he decided to produce watches under his own name. Dufour joined the prestigious ranks of the AHCI (Académie des horlogers et créateurs indépendants / Horological Academy of Independent Creators) in 1992 after three years working on his masterwork – the world's first grande and petite sonnerie minute repeating wristwatch.
The present lot is a unique Philippe Dufour masterpiece, superbly crafted in 18k pink gold and fitted with an elegant white enamel dial, one of four pieces ever made and the only one in this precious metal. This impressive timepiece debuted at the 1992 Basel Fair and stunned the watch industry premiering as the first ever grande and petite sonnerie minute repeating wristwatch produced by any maker. This Philippe Dufour timepiece makes its auction debut and
presents a unique collecting opportunity for truly dedicated connoisseurs of independent horology.
The hinged case back opens pleasingly to reveal an exquisitely finished and intricate two-train movement. The highly polished bevelled edges and curved bridges of the movement guide the admirer through an impeccable and sophisticated canvas of horological art. Through a button in the crown, the trip repeat mechanism is activated and the two sliding levers in the case band adjust the grande and petite sonnerie mode from striking to silent, and hour striking
to hour and quarter striking."
The other pieces that caught my eye... a tourby i love and a simple time only watch that is simply gorgeous... i need to start saving again ;)
a profession of love here ->
LINK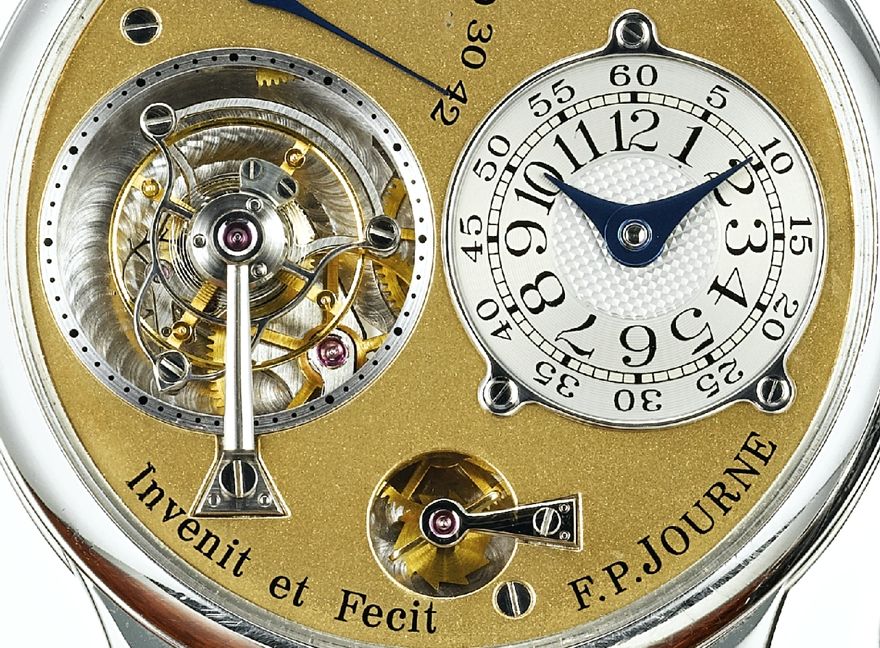 read more about this beautiful vacheron constantin here ->
LINK