2013 was an interesting year for me professionally and personally. I moved on to a role in another bank and had some tests on the personal end but i won't go into details of dat of course :)
to some watches then...

the first watch purchase for me in 2014 will likely be one of these! Swatch Sistem 51.

now i know deliveries have started in Switzerland for Euro150 but they are still not in SG. They should be coming Mar/Apr and will retail for

S$209

which is a fantastic price i might add, and are significant because they feature a movement entirely made by machines[makes me think of Terminator somehow... u know the scene with machines making the terminators ;)] and made at low cost and with very good accuracy.

(swatch images courtesy of swatch singapore marketing)
blue - the first model shown when these were announced and will likely be a popular model
red - this one caught my eye though and may be my choice :)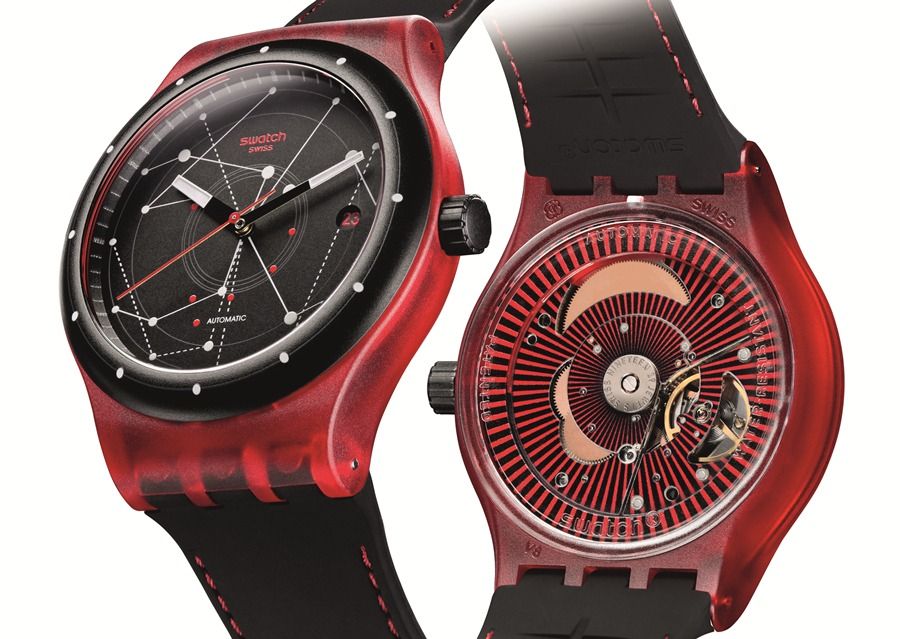 black - interesting movement pattern. oh all the movements viewable coz of transparent rotor. these guys are automatic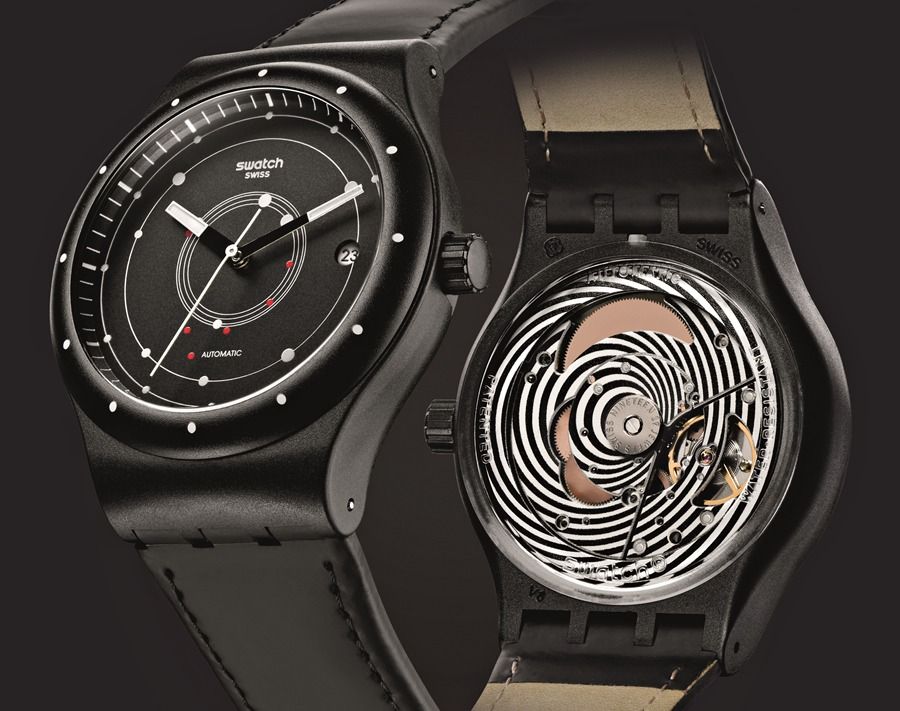 white - again another interesting colorful lookin movement
u can't go wrong with these if u r into watches and they are genesis for what may be of significant impact to the industry and to Swatch group's bottom line.
SISTEM51: TECHNICAL SPECIFICATIONS
A closer look at the technical aspects of SISTEM51 reveals the audacity and reach of the innovative approach to watch design and construction that made it possible. One hundred percent of the movement parts were newly conceived, engineered and built specifically for use in SISTEM51; the company has applied for seventeen separate patents.
Parts: 51 Modules: Plate with wheel train, gear train, hand fitting and date / Mechanical stem module / Escapement module / Automatic device module / Oscillating weight

Diameter: 30.00mm Height: 4.80mm

Case: 42 mm

Display: Hours, minutes, central seconds hand, date window

Functions: Automatic winding, 90 hour power reserve Frequency: 3Hz Rate precision: +/- 10 seconds/day; set by laser at the factory

Design: Printable surfaces, including oscillating weight and modules

Assembly: Under clean-room conditions on a fully automated, 20 meter long assembly line
and reviewing some pics of this watch for several reasons got me thinking... i love the black themes and rose gold version of it but i am warming more and more to this new rose gold ceramic version. i keep hearing of AP lowering ROO prices but don't think it's happened yet. when they do, they may become even more worthwhile price wise.
full frontal ;)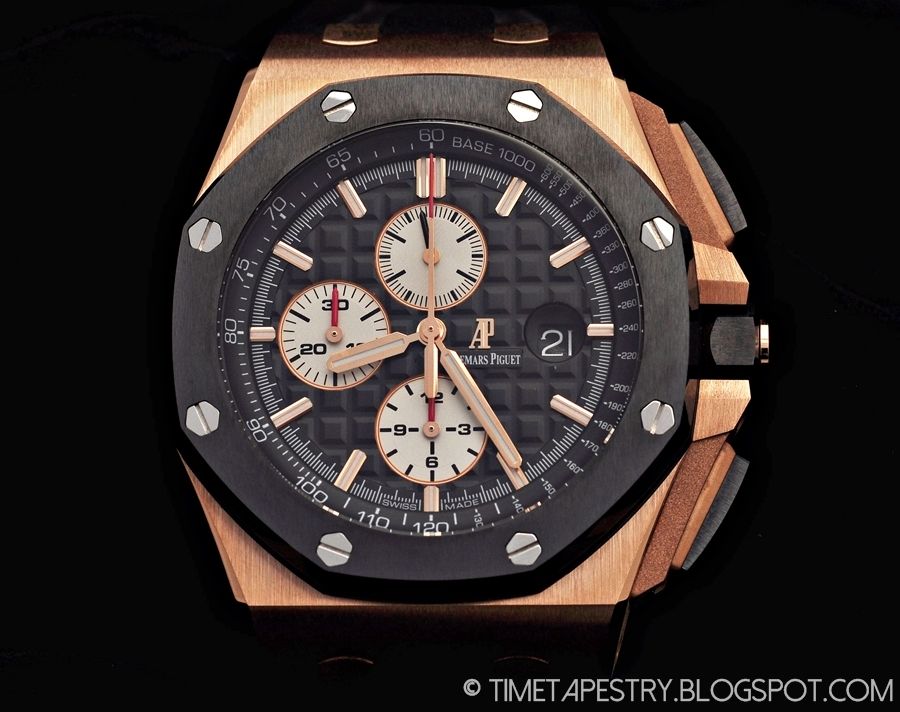 beautiful aesthetic with the brushed finishing and ceramic bezel and pushers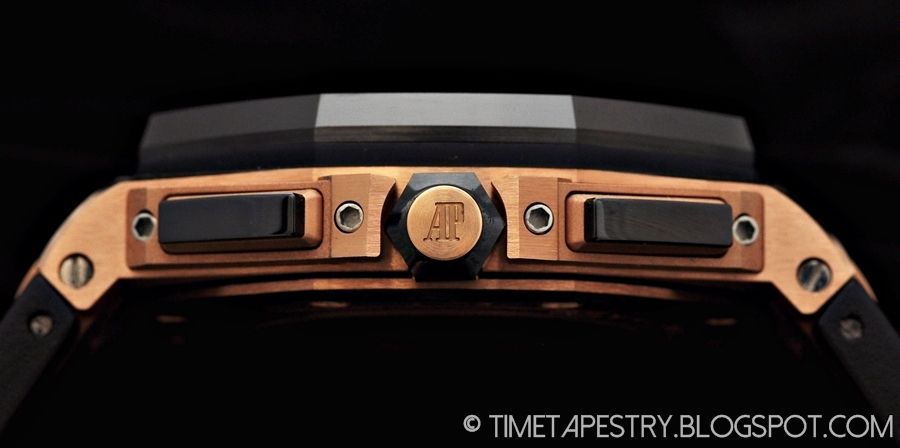 hmm... this parts not too good... small movement in big case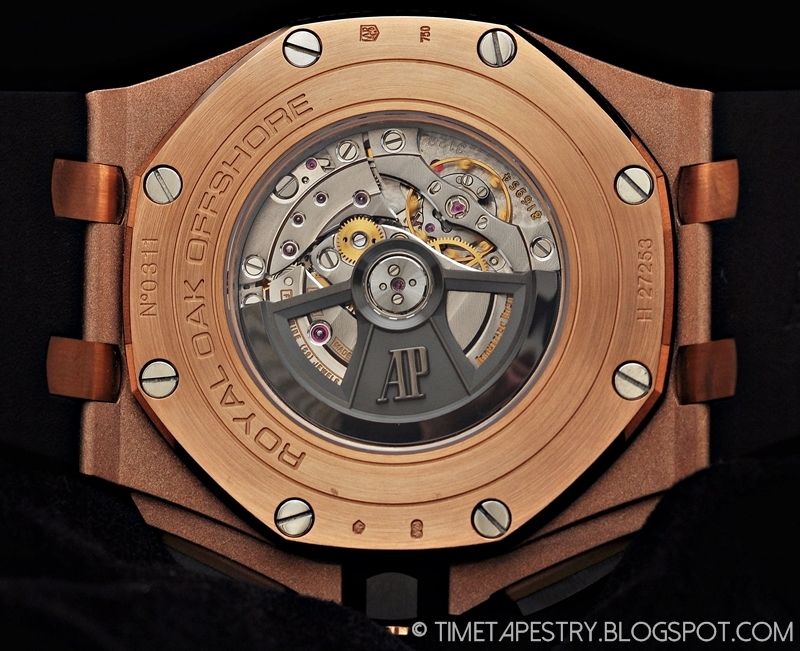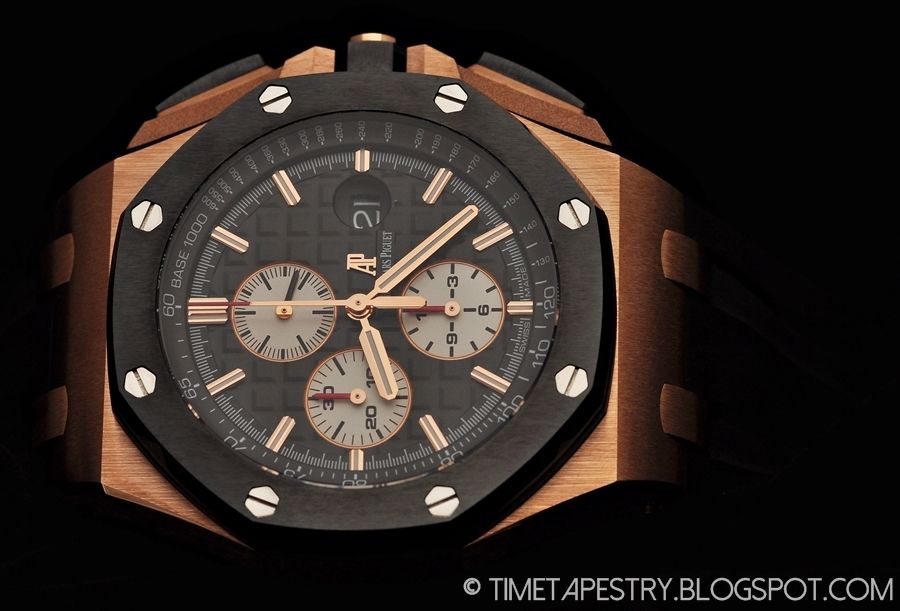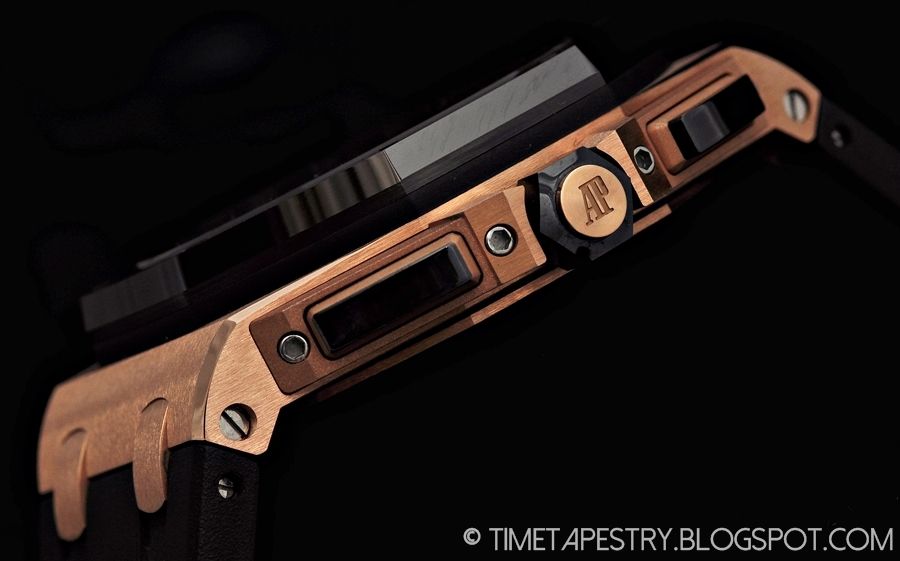 yes even the buckle is nice ;)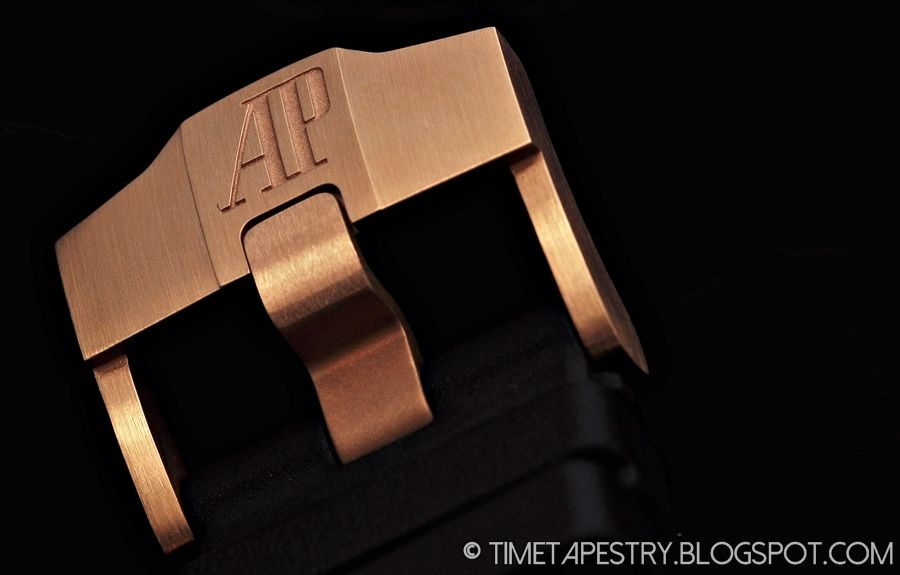 closer look at themovement... 3126 and modular chrono... still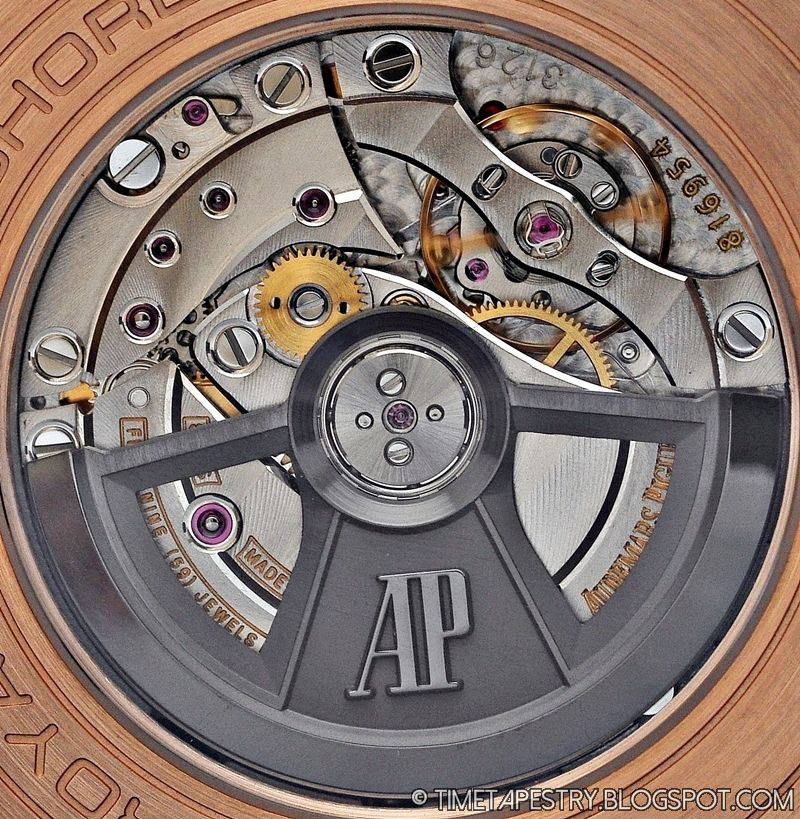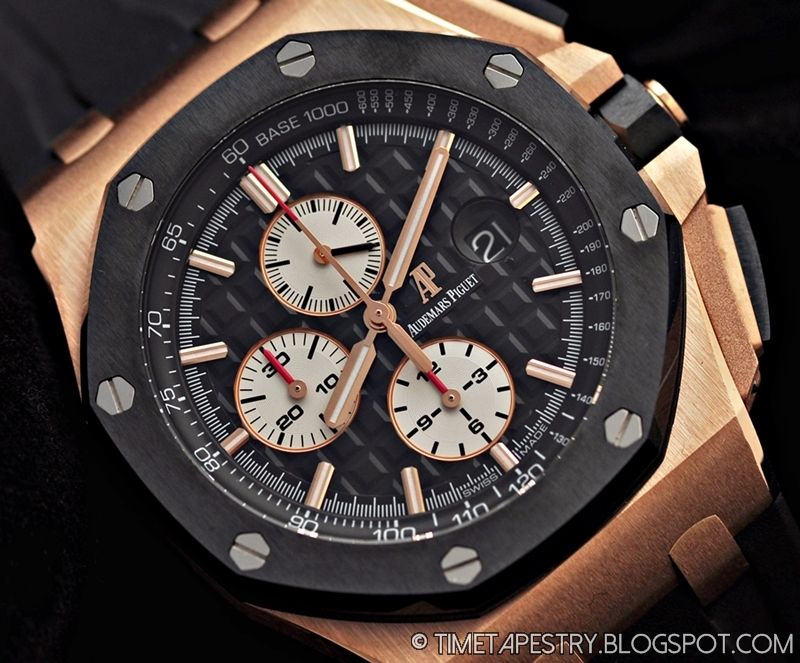 and that's it. have a great 2014 ahead and enjoy the journey! cheers, raph