to folks in the know, the 2 most classic iconic ladies bags out there would be the Hermès Birkin bag
[its pronounced air-mez dAR-ling... some folks pronounce it her-mees similar sounding to herpes... but thats if u're talking about the greek messenger god... if talkin bout french horse harness and bridle maker turned ultra haut de gamme luxury brand, than air-mez or air-mess would be the better way about it... Birkin after its designer Jane Birkin]
and the Chanel flap-style bags which have more or less all been labelled as 2.55
[be it the 2.55 Original, Re-issue or the Classic]
... a lot of nice bags try, these succeed... at what exactly raph? being kickass my friend... being kickass ;) classic... iconic... always in fashion... timeless... are some of the words oft thrown around for these bags... and rightly so...
lets focus on chanel for now. she's one classy lady and i dare say in her younger years, quite the looker... vavavavoom ;) kiddin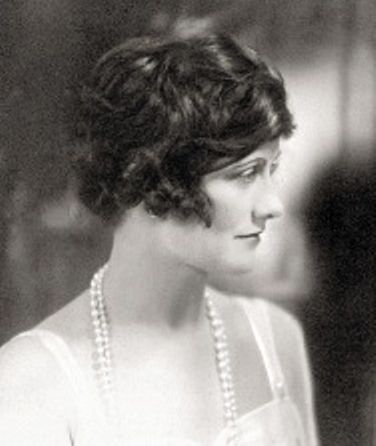 the 2.55 original is a lean and mean bag... it was designed by Coco in Feb 1955 hence the 2.55 tag as she wanted to have her hands free when carryin the flap style bag and its got design cues from her time at boarding school (caretaker's key carrying chains for the strap, her school uniform etc) and other nice little touches (hidden compartments for love letters, money storage flap pouch thingie)... its vintage-y and has a biker chic charm and must have been a very bold statement at the time but this lady was not one to shy from those... it has a rectangular 'mademoiselle' lock, called as such as coco never was married (by choice)... came in both leather or metal chain straps...
the 2.55 was updated in a reissue in Feb 2005 by Karl Lagerfield and it also sports the rectangular lock but only comes with all metal chain strap. the 2.55s reissues also only come in vintage distressed calfskin...
A 2.55 reissue... absolutely mean lookin... chains and leathers... grrrrr... very grrr....
the 2.55 next to the Classic...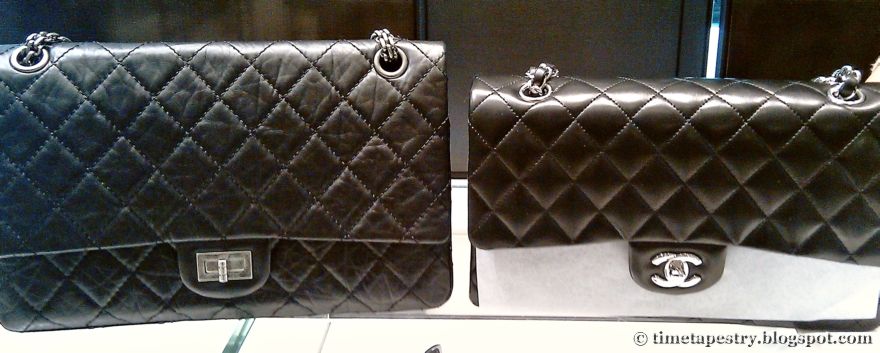 the one that a lot of folks label together as a 2.55 which has a lot of the dna of the 2.55 but is more an evolution of it is the
Classic
range which was introduced by Karl Lagerfield in the early 1980s. the interlocking Cs lock was introduced by him to the line. the chain in the original is updated with the leather interwoven into the hardware for the strap...
the interlocking Cs on the front signifies its a Classic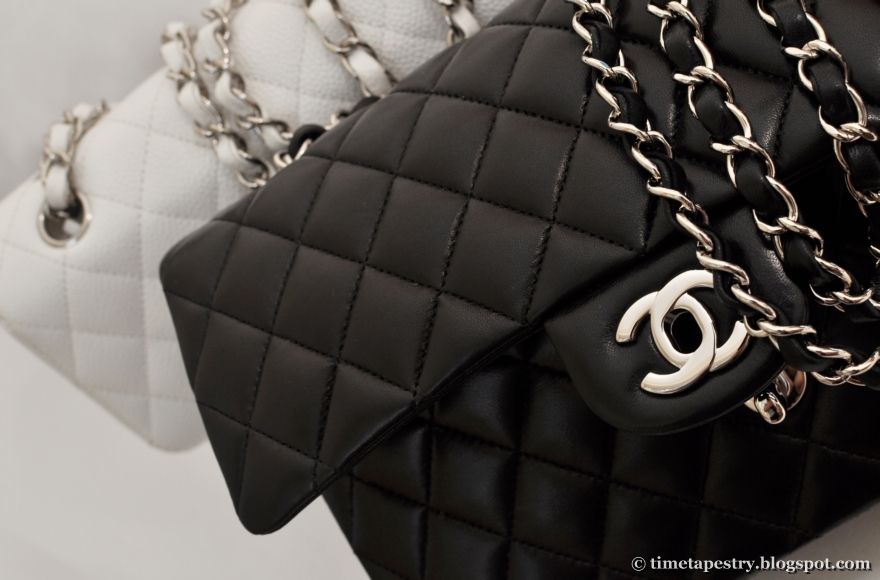 example of a white in caviar leather (made of stingray skin)... which has been processed to be tougher and textured..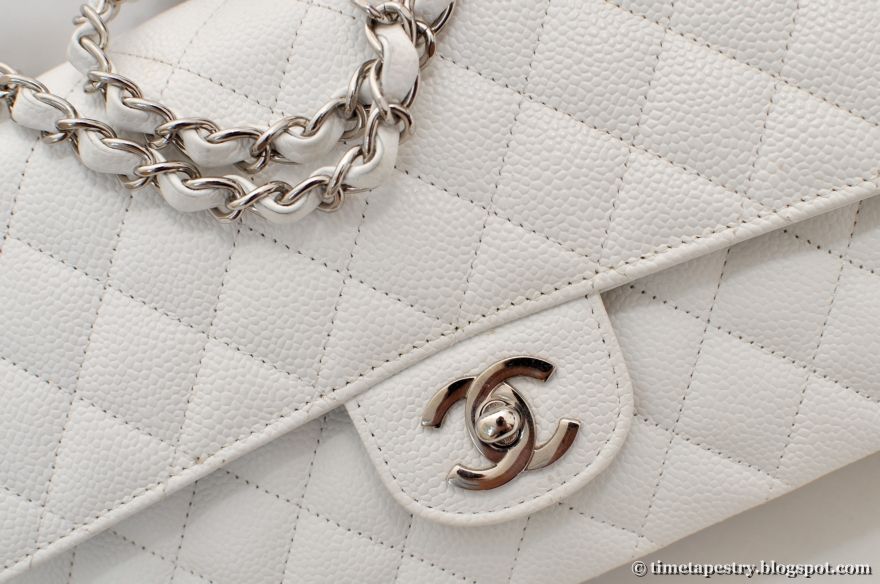 black in lambskin... soft supple and comfy with its distinctive quilt design (note more care has to be taken with the lambskins as they can scratch and have indentations etc but its one of their top material grades)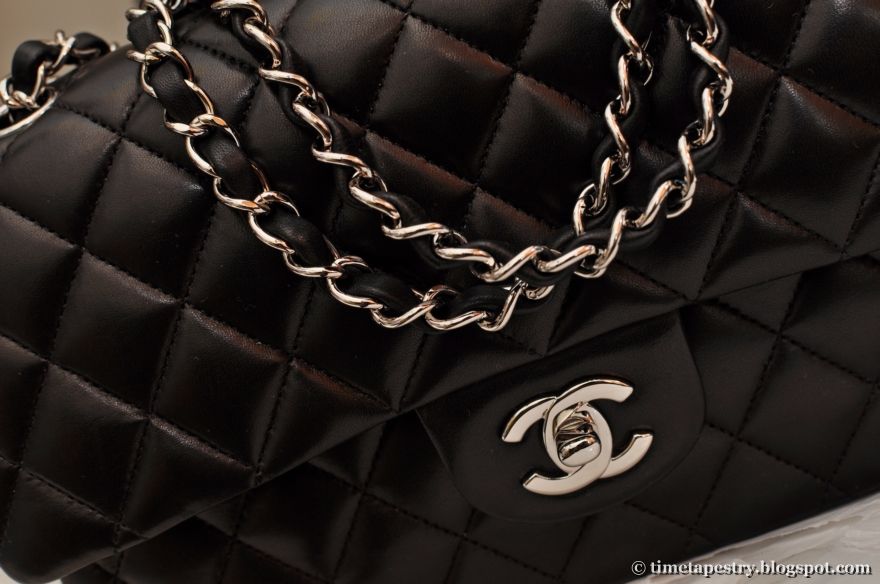 the valentines day edition for eg is based off the Classic range with the addition of charms on the strap and lacks a flap inside... the coral colored one in the 2010 limited edition... [note here: all limited editions for bags are false limiteds as i believe they will never ever run out of the materials they make the bag from or the colors to make them whatever color they want... so its all marketing hype to the extreme for limited editions in bags UNLIKE some watches ;)
read this about false limited in watches too
]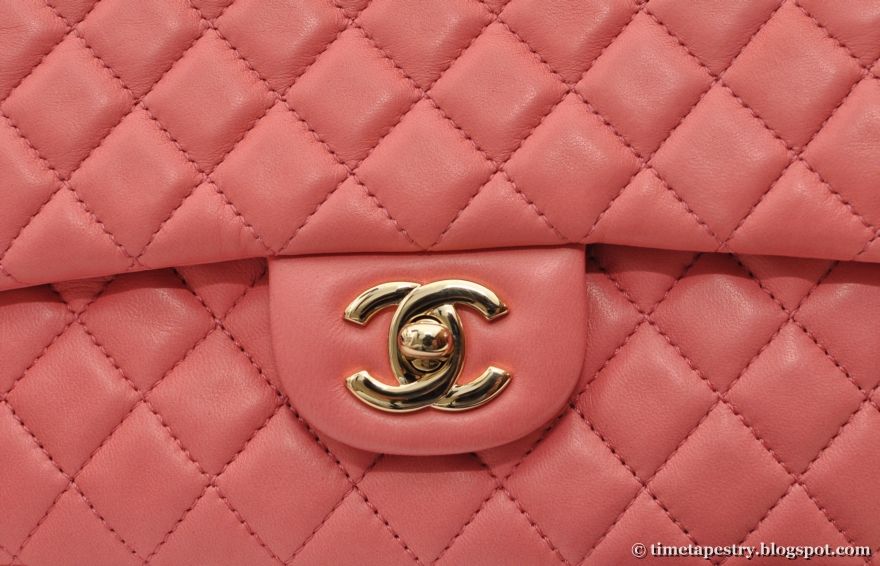 i do like em lucky charms though... they're cute :) "They're always after me lucky charms...[Dr. Evil and Frau Farbissina laugh] What? Why does everyone always laugh when I say that? They are after me lucky charms!" ~ Paddy O'Brien in Austin Powers