look at the stars... l
ook how they shine for you... a
nd everything dat u do...

yeah they were all yellow... ~ coldplay
it just fits so well together... the sheen of the ceramic bezel, the glint of the steel screws, the matte textured forged carbon body... its one sexy beast...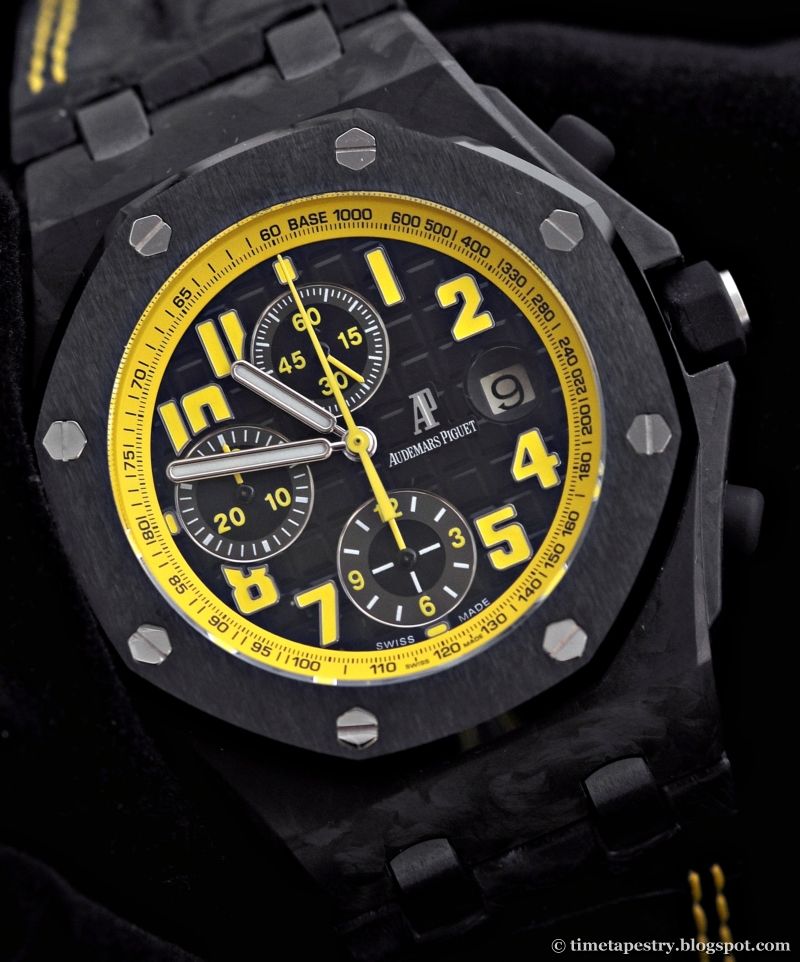 BUMBLEBEE!!! uhm or the Audemars Piguet Royal Oak Offshore with Forged Carbon Case and Ceramic Bezel... (i'll stick with its unofficial nick ;) 26176FO.OO.D101CR.01/02... 01 dial is non-lume and has 157 units out there, 02 dial is the lume version and is being made and bought and sold right now ;) mines an 02 dial which is all good :)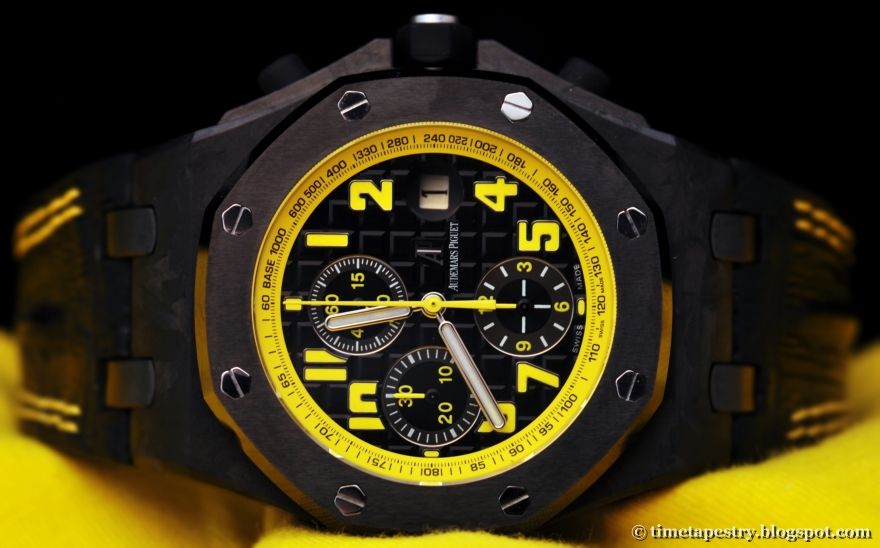 Before I talk more about the Bumblebee ROO, i wanted to point out that I am a ROO lover. the
ROOs are just the best

luxury sports watches

[

read this

] out there and why buy a watch from another brand that was set out to be a

ROO challenger or is a ROO wannabe

?

buy the real deal i say... i've been spoilt before too... i really loved the black themes and enjoyed ownership of it. but due to my grail quest, my black themes was sacrificed on the altar of the antiqua ;) that watch though was really really excellent on the hornback with white stitch i had it on. so in my hunt for a new ROO i did consider it again but having owned it before, i thought it wise to try something different, something a lil more exotic... jus a lil ;)
RIP my black themes... gone but not forgotten ;) still beautiful in my eyes...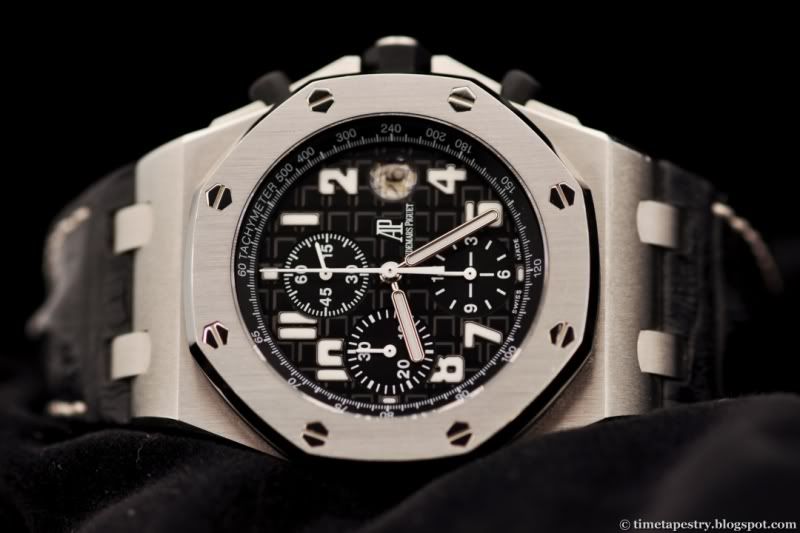 So what does this ROO lover consider to be the best ROOs out there?

mind you noting that there are ALOT of em!
loads of regular editions, unlimited limited editions, limited productions et al...
RAPHMEISTER'S FAVE ROOS
(prices are my estimates and are noted in Singapore Dollar$ as at early Feb 2010. note these aren't official and dealers/sellers can ask for anything they want to ask for...)
1. Black Themes (Priced around S$22k new, Pre-owned around S$18k depending on condition)

[Less than S$25k category - It wins out for me against the other themes and new regular editions

(Around S$22-23k new)

, steel rubberclads

(S$17+k-20)

, Navy, Safari, Volcano

(Around S$24 BNIB)

, older ROOs, Scubas

(Around S$18k)

etc]

Pricing information: Depending on condition in the pre-owned market the Regular Eds could go for S$17+k to 20ish. The Limited Productions(LP) typically go for S$21-24 in BNIB or LNIB condition depending on model.
2. Bumblebee (Priced around S$38k new) [S$25-50k

- It wins out for me against the

Kill Bill(Jalan Bukit Bintang)

(Around low to mid S$30s from high 30s)

, Orchard Rd La Boutique

(Around S$40), Rosegold Rubberclad

(Around S$40-42 new and mid-high 30s pre-owned), Alinghi Polaris (High S$20s to Low S$30s)

, Sincere, RO La Boutique NY

(in the low 40s)

, Ginza

(High S$30s)

, Las Vegas (Around mid S$30s from 40s)